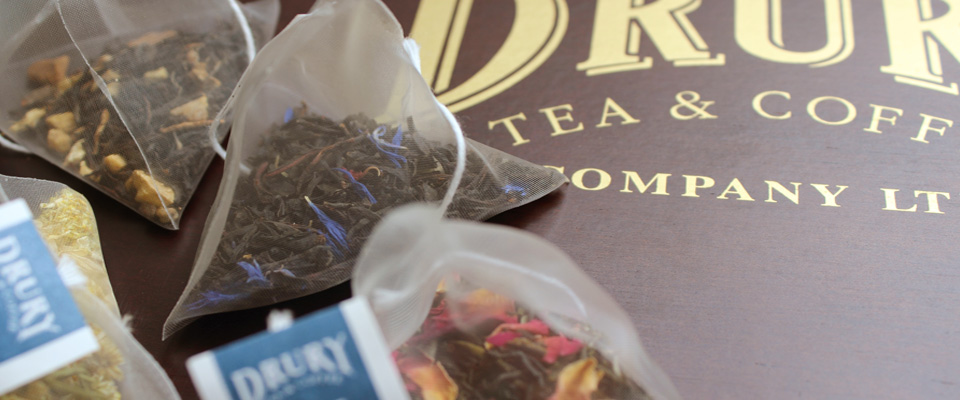 Drury Pyramid Tea Bags
The Drury range of pyramid teabags is one that we are immensely proud of. For technical reasons, the shape, size and type of teabag material we use has given us the opportunity to select from a broader range of quality, larger leaf teas than we can pack into traditional teabag paper. This new material, which is fully biodegradable, gives our tasters the opportunity to test their blending skills using some original teas that you will not find in our other teabag ranges. That makes the Drury pyramid range very special indeed and has proved very popular with our customers, so much so that we have now expanded the range to 30 varieties of black, green and white teas, tisanes and fruit teas. The range includes some unusual teas such as Saharan Mint, Vanilla Rooibos and Ceylon Orange Pekoe. A taste experience awaits.
Drury Pyramids are packed in window cartons of 15. Designed with a blue 'family' feel, each of the varieties is differentiated by an Art Deco-style illustration relevant to the respective tea type. The design evokes the mood of the thirties when The Drury Tea & Coffee Company was founded. For high volume catering use, the full range is also available in cartons of 100. Our presentation ranges of pyramid teabag caddies and gift packs offer an excellent retail sales opportunity for both caterers and shops.
Pyramid Tea Bags for Home or Re-Sale
Packed in 15's in our Art Deco style boxes
a large range of great teas in beautifully presented boxes.
Pyramid Tea Bags for Catering
Packed in 100's & 1000's
Our full range of Pyramids can be purchased for catering sales.
Enveloped Pyramid Tea Bags
Packed in 50's or 500's
Ideal for Hotels that want to up their game when it comes to room service.
Pyramids for Resale
We produce our range of 30 Pyramid Tea Bags in 15's packed in either boxes or caddies
Pyramids for Catering
You can purchase any of our range of 30 Pyramid Tea Bags boxes of 100′ s or 1000's for catering.
Pyramids for Hotels
We have now added to our Pyramid Tea Bags range an enveloped version for hotel rooms. Call or e-mail us for more details.
---
View our pyramid teas bags by type
Breakfast, B.O.P. Blend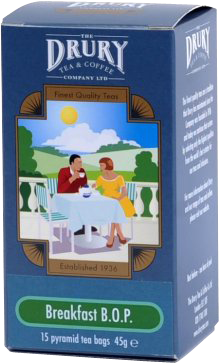 This leafy Breakfast tea, blended from the finest Broken Orange Pekoe teas from India and Kenya, is bright liquoring with exceptional flavour and strength. B.O.P. denotes a larger leaf than the fannings normally used in tea bags and this allows the full flavour and character of the tea to shine through. Delicious at any time of the day, not just the morning!
---
British Breakfast Blend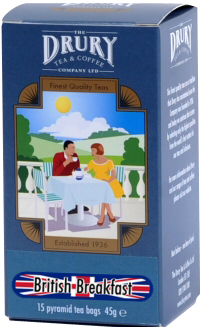 With a rich flavour, full body and deep, clear colour, this blend of the finest Indian, Sri Lankan and Kenyan teas makes the perfect start to your day. Really satisfying and full of taste, it's a tea in the finest British tradition! We have created this blend to go along side our Breakfast Blend B.O.P. A stronger more liquoring tea.
---
Pure Assam New Season's Tippy Golden F.O.P.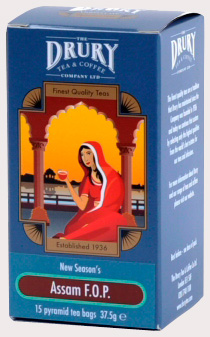 In the fertile valley of the Brahmaputra River in north-east India lie the tea gardens of Assam. The teas grown on these famous estates are highly regarded by connoisseurs for their full-bodied strength and rich, malty flavour. This large–leafed Assam Flowery Orange Pekoe is no exception, with lovely tip to the leaf, it has an exquisite liquor and superb balance of flavour.
---
Darjeeling Mid Season Tippy Golden F.O.P.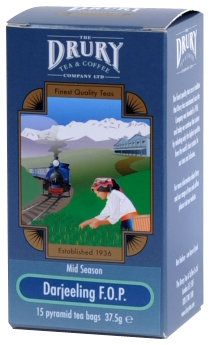 Grown high in the foothills of the Himlayas, where the cool mountain air and ideal climatic conditions help produce one of the world's most iconic and best-loved teas. Light, fragrant and delicious, this Flowery Orange Pekoe leaf is picked mid- season to bring out the full floral character of the tea.
---
China Yunnan F.O.P.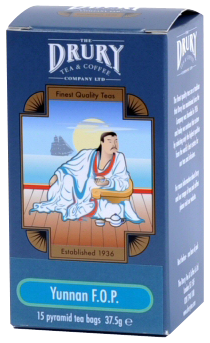 This large leaf China black tea has plenty of golden tips, giving a beautifully clear liquor and clean, penetrating taste. With delicate spicy and aromatic notes, it is superb served lightly infused and, unusually for a Chinese tea, it can be served with milk if desired.
---
China Black Imperial Earl Grey with Oil of Bergamot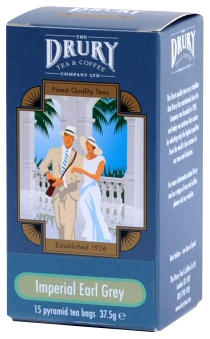 A fine example of a famous blend, prime China black tea, delicately scented with oil of Bergamot and blended with pure cornflowers. Delightfully aromatic and full of citrus flavour, it has a bright and clear liquor.
---
Ceylon O.P.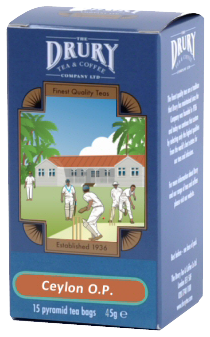 Grown on the Western slopes of Sri Lanka, this large leaf O.P. tea is beautifully balanced, with a light delicacy offset by a mellow liquor and medium body. Great with milk as a breakfast tea, it is also delicious served black with a slice of lemon or orange.
---
China Lapsang Souchong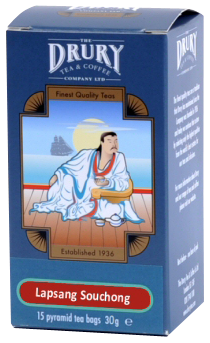 A black Chinese tea with a unique aroma and taste. Naturally smoky in flavour, this characteristic is enhanced by drying the leaves over wood fires during the production process. A great partner for smoked fish, it also goes very well with chocolate. Serve without milk.
---
Indian Spiced Chai with Assam T.G.F.O.P.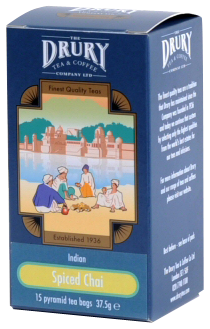 Made with finest Assam F.O.P. tea blended with premium whole spices, this chai is vibrant, aromatic and refreshing. Try it black, perhaps sweetened with a little honey, or for real indulgence infuse a bag in a small amount of hot water for 5 minutes and serve with hot milk for the ultimate chai lattè.
---
Christmas Tea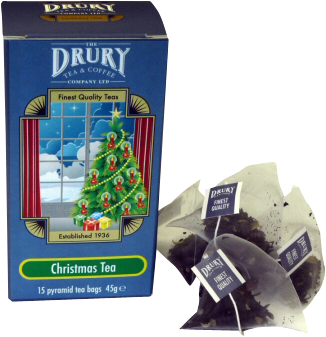 Finest black tea blended with apple, orange and Christmas spices. Warmly aromatic and spicy, with the rich scent of cinnamon and cloves. Best served without milk.
---
Decaffeinated Breakfast Blend
This leafy Breakfast tea from Sri Lanka have had most of the caffeine removed, but it has lost none of its flavour! Still full-bodied, rounded and punchy, it's a Breakfast tea that can be drunk at any time of the day or night.
China Green Jasmine with Flowers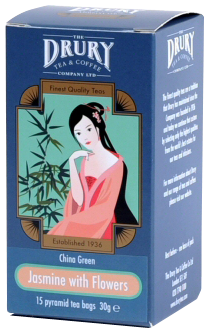 Finest green tea, delicately scented with dried Jasmine blossoms. Subtly perfumed and intensely aromatic, this tea is light with a refreshing liquor. Excellent on its own or as an accompaniment to oriental food.
---
Pinhead Gunpowder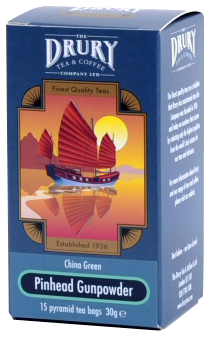 Named after the tightly rolled leaves which resemble grains of gunpowder, this Chinese green tea is full-flavoured with an aromatic liquor. The distinctive rounded and slightly sweet taste is best achieved by brewing with water off the boil.
---
Green Leaf Earl Grey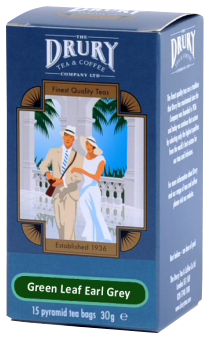 A much lighter version of this classic blend. Chinese green tea, delicately perfumed with Oil of Bergamot to give a refreshing citrus taste. Serve without milk.
---
Pai Mu Tan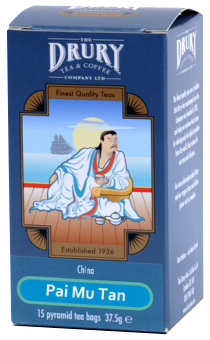 Also known as Bai Mudan or White Peony, this exceptional white tea is highly regarded in China for its distinct, delicate character and slightly floral note. Newly-formed buds are picked, along with the two adjacent leaves, and these are then allowed to wither naturally in the sun. The resultant tea is light with a honeyed sweetness and peony flavours. Brew at approximately 80 degrees centigrade and always drunk without milk.
---
China Chun Mee
A green tea from the Zhejiang province. Light liquoring with a golden-green colour. The distinctive rounded and slightly sweet taste is best achieved by brewing with water off the boil. Serve without milk.
---
Genmai Cha
Finest Japanese green tea blended with roasted and popped brown rice. With its pale brown/yellow liquor and unique sweet and savoury taste, there's nothing quite like Genmai Cha. Originally and traditionally drunk by the poorer sections of Japanese society (the rice acted as a "filler") this deliciously unusual tea is now enjoyed by everybody.
---
Ti Kuan Yin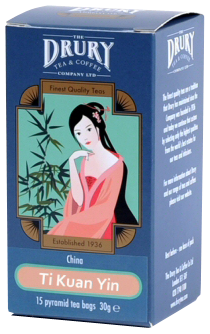 Literally translated as "Iron Goddess of Mercy", this superb semi-fermented tea from the Fujian province is named after a Buddhist deity. The leaves are subjected to an intricate and lengthy production process which results in a tea that is mellow and sweet with a warm, mildly toasted flavour and a light floral character. Brew at approximately 80 degrees centigrade and always drink without milk.
---
White Tea with Rose & Pomegranate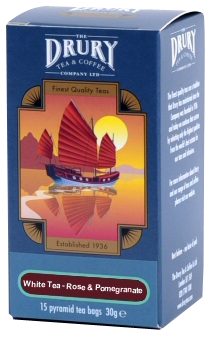 Finest quality white tea blended with pomegranate and rose petals. Very delicate and subtle, the natural mild astringency of the white tea is balanced with sweetness and floral notes. We recommend brewing for 2 to 3 minutes only to preserve the tea's natural balance. Drink without milk and equally good iced.
---
Green tea with Black Cherry
Finest quality Chinese Chun Mee green tea, delicately scented with natural Black Cherry flavour. Deliciously sweet and fruity, but with a remarkably balanced flavour, this light liquoring tea should always be drunk without milk
---
Saharan Mint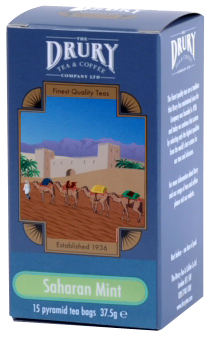 A delicious blend of our China green gunpowder tea and cut peppermint leaves. The natural astringency of the tea is perfectly balanced with a fresh minty tang to produce a drink that is both low in caffeine and ultimately refreshing. Traditionally served across North Africa in glass cups, it is a tea to be sipped at leisure, always serve without milk, but it can be liberally sweetened with sugar if desired. Serve without milk.
Camomile Flowers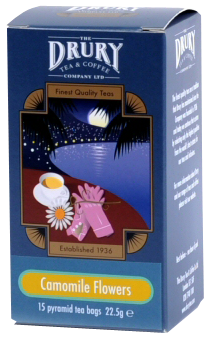 Light, with a floral sweetness, this naturally caffeine-free herbal infusion is renowned for its calming properties. Excellent at any time of the day or night it is best brewed with water off the boil and left to infuse for 3 to 5 minutes.
---
Peppermint Leaves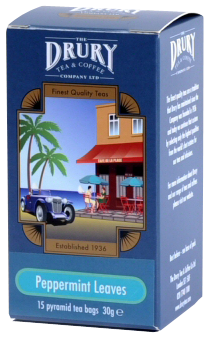 Refreshing and cooling, peppermint has long been used as a traditional aid to digestion. These cut peppermint leaves are no exception and are best brewed with water off the boil and left to infuse for 3 to 5 minutes.
---
Rooibos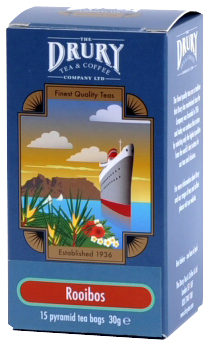 Naturally sweet, with a vibrant red liquor, Rooibos is a herbal infusion originally enjoyed in South Africa and now popular all over the world. Naturally caffeine-free with great hydrating properties, it's a drink that can be enjoyed hot or cold at any time of the day or night.
---
Lemon & Ginger Infusion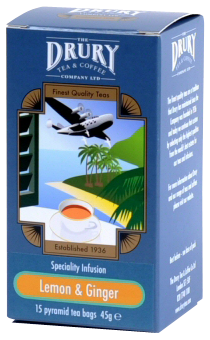 A caffeine-free infusion of real lemon and ginger pieces that's equally good piping hot or ice cold! Tangy lemon is balanced with fiery ginger and aromatic fennel to create a refreshingly spicy drink.
---
Passion Fruit & Orange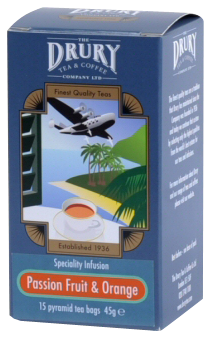 A fruit infusion full of tropical flavours – passion fruit, orange, rosehip, hibiscus and apple blended for a full-flavoured drink.
---
Redberry Infusion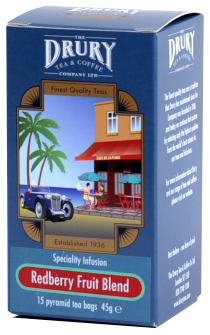 Packed with flavoursome fruitiness, this caffeine-free infusion features rosehip, hibiscus, apple, orange and red berry flavours.
---
Vanilla Rooibos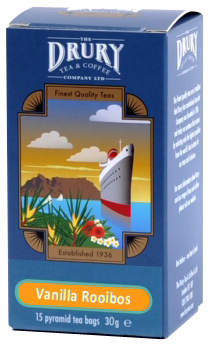 Naturally sweet, with a vibrant red liquor, Rooibos is a herbal infusion originally enjoyed in South Africa and now popular all over the world. Our Vanilla Rooibos with real Bourbon Vanilla pieces brings an extra dimension of flavour to this caffeine-free drink. Serve without milk.
---
Liquorice & Peppermint Infusion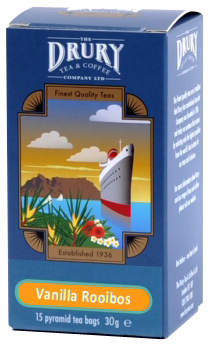 A balanced blend of liquorice root and peppermint giving a sweet drink with a refreshing minty note.
---
Lemon Verbena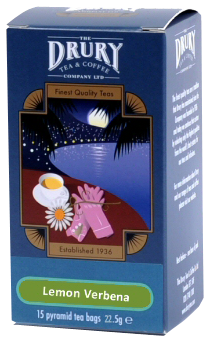 Made from the finest pure cut lemon verbena leaves, this delicate infusion is, as the name would suggest, full of refreshing lemon flavour. A caffeine-free natural digestive, it's great hot or ice cold. Serve without milk.