Espresso Coffee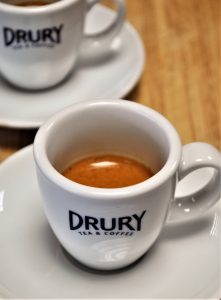 We roasted our first espresso coffee in 1954. It was the time of the 'frothy coffee' revolution and, along with The Kenya Coffee Company (later Kenco), we were the first to introduce espresso coffee to the UK. We have been roasting espresso coffees for use in hotels and restaurants ever since.
Coffee the traditional way
Although the way we produce coffee has changed significantly over the years, our aim remains exactly the same as it did all those years ago – to supply our customers with the best tasting and freshest espresso coffee available. These days we use the most sophisticated roasting equipment and modern packing methods but our coffee is still traditionally slow roasted and carefully checked by hand to yield the optimum flavour. It is a tribute to the expertise of our forebears that the original espresso blend – Reale – is still on our tariff, along with a total of 16 different espresso coffees – the largest range of any UK manufacturer.
Why buy from a UK roaster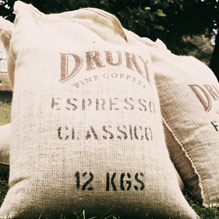 There are considerable environmental benefits to roasting coffees in this country. Roasters worldwide buy from the same points of origin, but importing roasted coffee beans from a third party country (for example, Italy) increases transport costs considerably, thereby adding to the carbon footprint. But there is a further benefit to roasting in the UK. On average Drury coffee is delivered within days of roasting, ensuring that you are serving your customers with coffee that's as fresh as it possibly can be.
How we pack
We produce all our espresso coffee beans in foil bags with one way valve for freshness. The Valve allows gases from the fresh coffee to be expelled from the bag but does not allow air in that will stale the product. We also pack to order into 12Kg hessian sacks for large volume users. This reduced the amount of packaging involved and as we are using less packaging we pass on the savings so the price per Kilo is reduced.
We supply to hotels, restaurants, snack bars, coffee shops and all manner of outlets, wholesale, retail and mail order.
The Drury range of 16 espresso cofffee blends has been developed to suit our customers' diverse palates and budgets.

 Click here to view our range of Espresso Coffee beans and descriptions.