Drury Coffees
At Drury we have over seventy years experience in blending fine quality teas and roasting the world's finest gourmet coffees. All our coffees are slowly roasted in London for maximum flavour, and we ensure that they reach our customers at the peak of freshness.
DRURY WHOLESALE COFFEE
Based in London and originally founded by three Italian brothers in 1936, The Drury Tea & Coffee Company is a family-run wholesale coffee roaster and tea blender supplying foodservice and retail markets both nationally and internationally. Today, over 80 years on, Drury is still family owned and run by the third generation of the Olmi family. It continues to flourish respecting the traditional values of quality and customer care, laid down by the founders. Specialising in the provision of wholesale coffee and tea, the Company supplies restaurants, coffee shops, hotels and offices – in fact anywhere that wants to serve good quality coffee!
COFFEE ROASTING
It is Drury's proud boast that every single coffee bean it sells is roasted in London. In 2015, the Company relocated its factory and headquarters to modern new premises on the prestigious Royal Arsenal development beside the River Thames in Woolwich. To coincide with the move, Drury invested in a new state-of-the-art Brambati 300kg batch roaster and its annual output capacity of 2,000 tonnes virtually quadrupled the Company's capability.
Today, production is fully computerised, but every single batch is still personally checked by the Drury roasting team under the watchful eye of Head of Roasting, Michael Morton-Lindie, who has 30 years' roasting experience with Drury. The factory has two automated wholesale coffee bean packing lines, two filter coffee lines and one dedicated to decaffeinated coffee.
Drury complies with all current manufacturing regulations and has achieved the NSF Due Diligence standard. Subject to minimum quantity orders, Drury can create bespoke blends and products – it is small enough to produce low volume 'one-off' runs of special products, yet large enough to fulfil 1000-kilo pallet wholesale coffee orders.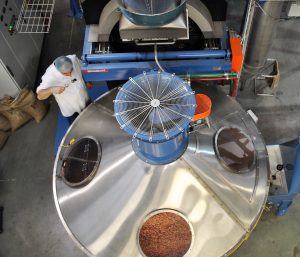 In the practical world of foodservice, the coffee itself is just one part of a complicated jigsaw in brewing the perfect cup of coffee. For this reason, Drury has set up specialist departments in its business dedicated to R&D, barista training and equipment sourcing.
ESPRESSO COFFEE
In 1953, Drury became the first company to roast espresso coffee in the UK to cater for the new wave of Italian espresso bars that were opening up in Soho. Today, that same espresso blend (Reale) remains on the price list, but the selection has now increased to many different blends and originals for espresso use, one of the broadest ranges of any UK roaster. Included is Drury's current best-selling wholesale coffee, Caffè Cuidado, blended from 100% Arabica coffees sourced from Rainforest Alliance Certified™ farms. Its popularity stems from its versatility, sustainability and, of course, its flavour.
WHOLESALE ESPRESSO COFFEE
The wholesale espresso range is packed as standard in one-kilo recyclable laminated bags for freshness and Drury operates a collection scheme for used bags, whence they are delivered in bulk to a specialist facility for recycling. For volume users, an economic and equally sustainable alternative exists in the form of 12-kilo hessian sacks. This bulk pack of wholesale coffee beans has the benefits of both reducing packaging and lowering energy consumption, with the savings passed on to customers in the form of a tangible discount off the kilo pack price. Whichever way you buy your espresso beans, you can rest assured that the coffee will always be fresh, always consistent and, naturally, always of the highest quality.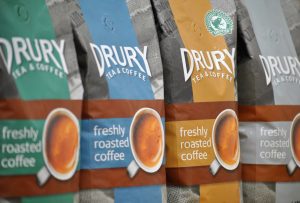 COFFEE FOR FILTER AND CAFETIÈRES
Just like its espresso range, Drury wholesale coffees for filter and cafetière use are all freshly roasted, but the selection for these different forms of brewing is even broader, with over thirty blends and originals in stock at any one time. Additionally, Drury offers a range of extra special single origin and estate coffees. This selection changes seasonally, allowing customers even more choice.
The wholesale filter coffee selection is portion packed for a wide variety of brewing methods, with packs sizes from 70g to 500g, whilst there is a small selection of portion packed cafetière blends and the full selection available in 500g packs.
GROUND COFFEE BAGS
The most recent addition to the Drury portfolio is a range of real ground coffee bags. They deliver all the taste of ground coffee with none of the mess and can be brewed just as you would brew tea from a teabag. There are two blends available, a 100% Arabica coffee from Rainforest Alliance Certified™ farms and a Swiss Water Process decaffeinated coffee. These fit perfectly in a purpose designed wooden selection tray that also includes pyramid teabags, hot chocolate and sugar sachets. This presentation is useful for self-service hot drinks in hotel lounges or conference suites and is particularly convenient for hotel bedrooms, where spent grounds can be messy.
COFFEE FOR RESALE
With the same large selection as its filter and cafetière range, Drury wholesale coffees for resale are available either in bulk bags of three or 12-kilos or in attractive new 250g packets. Whilst the wholesale bulk packs are only supplied in beans, the 250g packets can be ground to customers' exact requirements.