Drury Pyramid Tea Bags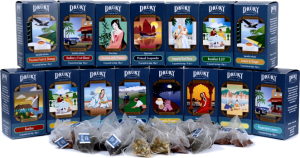 The Drury range of pyramid teabags is one that we are immensely proud of. For technical reasons, the shape, size and type of teabag material we use has given us the opportunity to select from a broader range of quality, larger leaf teas than we can pack into traditional teabag paper. This new material, which is fully biodegradable, gives our tasters the opportunity to test their blending skills using some original teas that you will not find in our other teabag ranges. That makes the Drury pyramid range very special indeed and has proved very popular with our customers, so much so that we have now expanded the range to 30 varieties of black, green and white teas, tisanes and fruit teas. The range includes some unusual teas such as Saharan Mint, Vanilla Rooibos and Ceylon Orange Pekoe. A taste experience awaits.
Drury Pyramids are packed in window cartons of 15. Designed with a blue 'family' feel, each of the varieties is differentiated by an Art Deco-style illustration relevant to the respective tea type. The design evokes the mood of the thirties when The Drury Tea & Coffee Company was founded. For high volume catering use, the full range is also available in cartons of 100. Our presentation ranges of pyramid teabag caddies and gift packs offer an excellent retail sales opportunity for both caterers and shops.
Pyramid Tea Bags for Home or Re-Sale
Packed in 15's in our Art Deco style boxes
a large range of great teas in beautifully presented boxes.
Pyramid Tea Bags for Catering
Packed in 100's & 1000's
Our full range of Pyramids can be purchased for catering sales.
Enveloped Pyramid Tea Bags
Packed in 50's or 500's
Ideal for Hotels that want to up their game when it comes to room service.
Bespoke Pyramids Tea Bags
As a manufacturer we can offer a own label tagged product or a generic tagged version.
View our pyramid teas bags by type