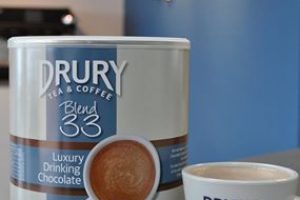 Drury is proud to launch of our brand new hot chocolate! Drury Blend 33 is a delicious hot chocolate drink that's made with 33% cocoa solids for a truly luxurious treat.
It's designed to be prepared with hot milk for a really rich flavour and texture, and it's suitable for vegans (using soy or almond milk obviously) and coeliacs.
Available in 2 kilo resealable drums which include a handy measuring scoop, it's sold wholesale in cases of 4 x 2 kilos and available now.
Oh, and did we mention it really is delicious…..
Contact us for more details