Commercial Pour Over & Bulk Brew Machines
---
Bravilor Bravilor Novo II Coffee Maker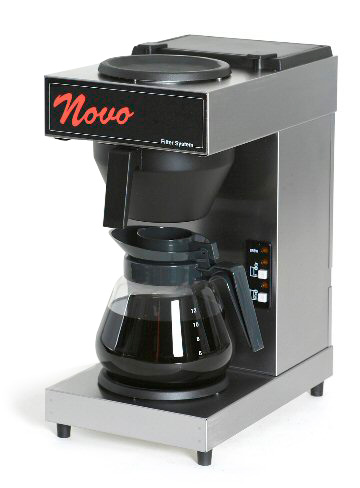 The Bravilor Novo II is our best selling filter coffee machine. This simple to use system brews a perfect cup every time. The Filtro produces 3 pints (1.7 litres) of coffee in 6 minutes and has a second hot plate to keep coffee hot for busy times. Other features include a descaler indictor light.
There is also a plumbed in version for establishments that have a water supply to hand.
Throughput/hour 230V – approx. 18 litres
Brewing time 230V – approx. 5 min. 1 decanter
Rated power 230V~ – 2145W
Dimensions in mm (wxdxh) – 215x355x618
---
Bravilor TH10 Coffee Maker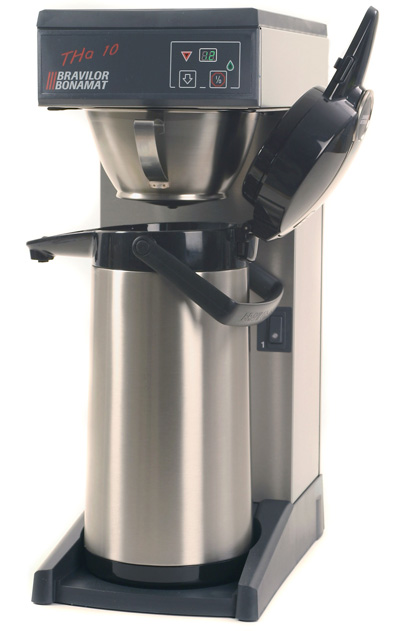 This model decants straight into a vaccuum flask or airpot.
The benefit of this model is that there is no direct heat to stew the coffee.
Throughput/hour 230V – approx. 18 litres
Brewing time (2.2 Litre) 230V – approx. 7 min
Rated power 230V~ – 2015W
Dimensions in mm (wxdxh) – 215x355x557
---
Marco Maxibrew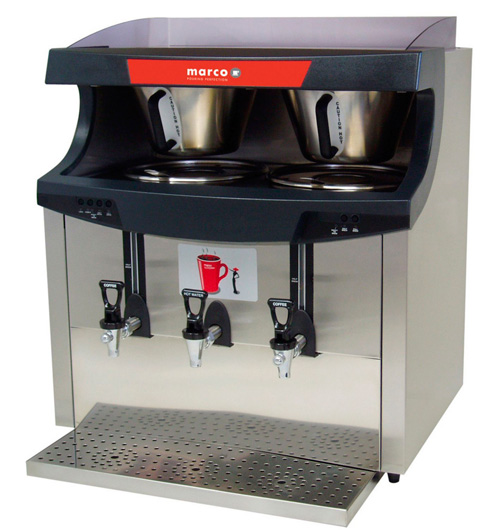 Excellence in coffee
Attractive design for prestigious locations
Stainless steel construction
Half and full brew feature
Separate hot water and coffee taps
Easy to operate
2 coffee urns
2 full brews can run simultaneously
---
Marco Filtro Shuttle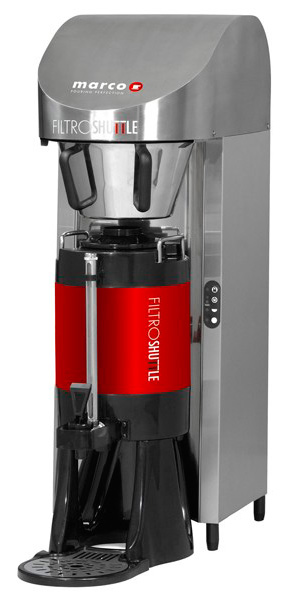 Delivers coffee directly into portable urn
Self-service option available – rear delivery push button facility
Attractive design for prestigious locations
Stainless steel construction
Half and full brew feature
Separate hot water and coffee taps
Easy to operate
Basket safety lock during brewing
---
Marco Bulk Brew Range
| Model | Water, Cups per Hour | Coffee, Cups per Hour | Full Brew |
| --- | --- | --- | --- |
| Qwikbrew | 156 | 139 | 5.5 Litres |
| Qwikbrew Twin | 311 | 377 | 5.5 Litres x 2 |
| Maxibrew | 467 | 529 | 11.5 Litres x 2 |
| Marco Filtro Shuttle 5.6KW | 311 | 189 | 11.5 Litres x 2 |
| Marco Filtro Shuttle 2.8KW | 156 | 189 | 5.5 Litres |