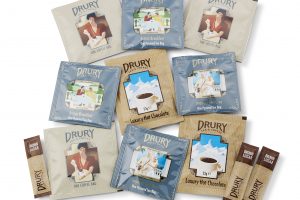 Drury are proud to announce the launch of a new hot drinks selection that is perfect for hotel bedrooms, but will prove equally useful in other hotel locations such as conference suites and bar services.
The selection includes our famous pyramid teabags, our Drury branded instant-mix hot chocolate and a brand new ground coffee bag. All products are individually wrapped in Art Deco design packaging and are available with a smart polished wooden tray to keep things tidy.
BEDROOM HOT DRINKS SERVICE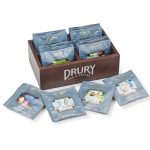 Pyramid Teabags – We offer a choice of eight different teas and infusions, individually packed in attractive foil envelopes, each with a different Art Deco design. This includes: British Breakfast; Imperial Earl Grey; Camomile; White Tea with Rose and Pomegranate; Peppermint Leaves; Chun Mee China Green Tea; Lemon & Ginger Infusion and Redberry Infusion.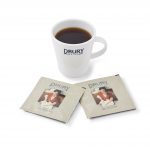 Ground Coffee Bags – The very latest addition to the Drury portfolio. It offers all the taste of ground coffee with none of the mess – just brew it as you would a teabag. Available in two blends: a 100% Colombian from Rainforest Alliance Certified™ farms and a Swiss Water Process decaffeinated coffee. The stylish packaging features an Art Deco design.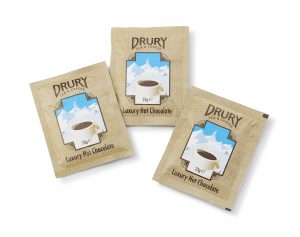 Luxury Hot Chocolate – An all-in-one hot chocolate mix in a sachet. The cocoa is sourced from Rainforest Alliance Certified™ farms and is HVO-free. All you need to do is add hot water for a smooth, rich and decadent taste. These sachets also follow the Art Deco theming with an Alpine scene.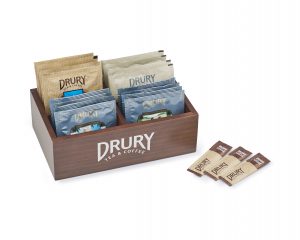 Drury Branded Tray – This polished wooden tray is branded with our Drury logo and is perfect for keeping your variety of drinks sachets neat and tidy. It will look smart and professional in hotel bedrooms, conference rooms and bars. Our tray can hold a selection of our various sachets: coffee, teabags, hot chocolate and sugar.