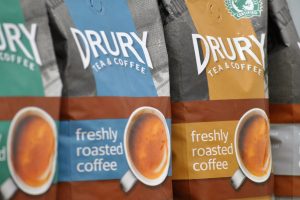 Here at Drury we are very excited to announce our new recycling initiative that will launch on the 1st of March 2019 and be available for our London based wholesale clients.
The Problem
We believe at a time when climate change and the wellbeing of our planet are critical issues facing all of us, all individuals and companies have a duty to minimise their environmental impact.
The challenge we face, as a company and within the broader tea and coffee industry, is that we need to use certain materials with good barrier properties to keep our products fresh for the consumer.
The Current Situation
We currently use a triple laminate material called PET ALU PE which is made of plastics (polyester and polyethylene) and aluminium. This has excellent barrier properties, but of course is not compostable. We have looked at using compostable or biodegradable material, but there are problems associated with this route. Compostable laminate doesn't have the same barrier properties as traditional materials (meaning our coffee will stale quicker) and it is relatively expensive. Additionally, most types can only be composted in industrial processes which not all local authorities offer, causing confusion and meaning that much of it ends up in landfill. We have also investigated the benefits of reusable containers, but again there are issues with these in that they are bulky to transport and need to be cleaned thoroughly in between uses, adding to their carbon footprint.
The Solution?
We are delighted to say that we have now found what we hope to be the ideal solution to this problem. In association with our supplier, Maxilla Packaging, we have sourced a facility that can fully recycle our PET ALU PE laminate material. This facility uses a process called pyrolysis which heats up the carbon (plastic) element of the laminate to 1000◦C. The aluminium component of the packaging helps transfer the energy used to the plastic, making the process quick and efficient. The aluminium foil is recovered in its solid form, clean and ready for reprocessing. The plastic elements (polyester and polyethylene) and any organic contaminants (e.g. coffee) are degraded into a mix of hydrocarbons. This mixture is then cooled down and separated into two fractions: gas and oil. The gas can be used to generate the electricity required to power the process, and the condensed oils can be sold as fuel. This clever arrangement means the recycling facility reduces its environmental impact even further.
How It Will Work
At present this scheme will only work with our 1 kilo, 500g and 250g valve bags (we plan to roll it out to our other packaging lines during 2019). Drury will collect the used packaging material from our customers, but only when they have a delivery, as this reduces the carbon footprint. The used bags don't need to be cleaned before collection (the pyrolysis process will degrade any coffee remnants) but we do ask that the bags are not returned contaminated with any other materials. Our vans will have lidded bins fitted inside to facilitate collection and ensure we do not compromise food safety.
Once the used bags are returned to Drury we will consolidate them and ship them to the recycling site for processing
How Much It Costs
It is our intention initially to absorb most of the costs of this process. We intend to charge an annual subscription fee of £10.00 + VAT to cover some of the administration costs involved. This fee will entitle the customer to return as many Drury coffee valve bags as they wish during the year, and we feel this is very good value for money, especially as it will also reduce our customers' waste disposal charges. There is also an optional certificate for our customers that can be displayed or used to support their environmental policy.
Scope
For now this scheme is limited to 1 kilo, 500g and 250g Drury valve bags (no others please) and only for those wholesale coffee customers we deliver to directly with employed drivers (not courier services).
What Next
To register your interest in participating in this scheme please contact your sales representative or the main Drury office using the telephone number or email address shown below. For more details on the pyrolysis process please email us.
Telephone 020 7740 1100
Email info@drurycoffee.com
We feel this is the best solution currently available to tackle one of the issues facing the coffee industry and hope that you will support us in making it a success.