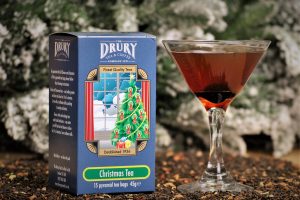 With Christmas drawing nearer, our tea department has once again started to blend our fantastic Christmas Tea pyramid tea bags. Apple, orange and Christmas spices enhance the finest black tea to create a warming, festive tea perfect for cold days this holiday, with scents of cinnamon and cloves to get all into a merry mood.
This year we have created a brand new Drury Christmas Tea cocktail: Christmas in Manhattan. Infuse American bourbon with our Christmas Tea and mix with sweet vermouth and orange bitters for your own fairytale of New York. Impress family and friends with this sweet and spicy festive cocktail.
Christmas in Manhattan
45ml Bourbon infused with Drury Christmas Tea
45ml Sweet Vermouth
dash orange bitters
Combine all ingredients in a cocktail shaker with ice and shake vigorously. Serve in a cocktail glass with a cocktail cherry.
To make Christmas tea infused bourbon: Infuse two pyramid tea bags in 250ml bourbon for 60 minutes. Squeeze tea bag well and discard.